On the right side of the Start menu, you'll see a list of commands that are vaguely similar to what appeared on the XP and Vista Start menu. However, if you're coming from XP, many of the names have changed. For example, the old My Documents link has been replaced by one named Documents, My Pictures is now Pictures, My Music is now Music, My Computer is now Computer, and My Network Places is now Network. There are some new items, too, as well as some missing items that were present in XP.

At the top of the right side of the Start menu, you will see a link that has the same name as your user account. For example, if you're logged on as Haja, the first link on the right side of the Start menu will also be named Haja. When you click this link, it opens a Windows Explorer window displaying the contents of your user folder, which is found in C:\Users\Your Username, by default.
This folder contains folders such as My Documents, My Pictures, My Music, and so on. It's unclear why you would ever need to access this folder, except in rare circumstances. For this reason, you may simply want to remove it from the Start menu and replace it with a more frequently needed command (like Videos).
The Games link debuted in Windows Vista and opens the Games Explorer, which provides access to both games that came with Windows and those you might purchase separately. One feature some people might miss with the new Start menu is the ability to quickly cause the system to shut down, restart, sleep, or hibernate using just the keyboard.
In Windows XP, you could tap the Windows key, press U, and then U for shut down, R for restart, S for sleep, or H for hibernate (the latter of which was a hidden option).
Because of the Start Menu Search feature in the Windows 7 Start menu, these shortcuts no longer work. However, you can still perform these actions with the keyboard in Windows 7.
Now, however, you have to tap the Windows key and then press the Right Arrow key three times to display the submenu shown in Figure below, which provides links to the aforementioned options as well as Switch User, Log Off, Lock, and, if you have a notebook computer with a docking station, Undock. The default option— on the button, not the menu—is shut down.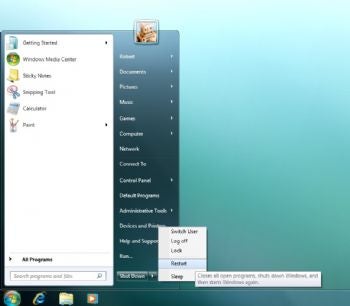 In Windows XP and Vista, some of these links pointed to special shell folders, special physical folder locations that were reserved for specific purposes. In Windows 7, these links no longer point to special shell folders; they point instead to Libraries, a new Windows 7 feature. From a usage standpoint, Windows 7 Libraries work similarly to special shell folders from previous Windows versions.

Options related to shutting down, sleeping, and locking the PC are available via this mini pop-up menu.
Notice that this menu is, alas, a pop-up menu similar to the All Programs menu in Windows XP. Why Microsoft killed pop-up menus in one place but added them in another is a mystery.